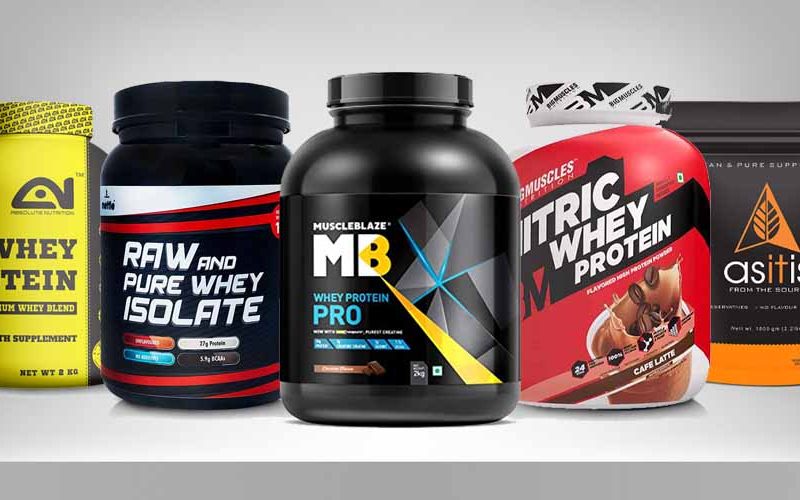 Indian Protein Supplements Market has hit a boost for the last few years and has been growing at a rapid rate. Indian Protein Supplements are being used by professionals and better results are being incurred. Protein Supplements have become one of the workouts essential nowadays. With muscle recovery, these Supplements also facilitate muscle growth at a higher rate as compared to results by usual diet and exercise. Better results come with a better workout. To supplement these results, Protein Supplement is there.
But choosing from a wide range of Best Indian Protein Supplements can sometimes be confusing and hard. So, we have prepared a list of 5 Best Indian Protein Supplements along with their properties. So, that you can easily choose which is the most suitable for you.
1. MuscleBlaze
Started in 2012, MuscleBlaze is now one of the leading sports nutrition brands in India. MuscleBlaze offers a wide range of Supplements equipped with the best quality ingredients. Starting from Whey Protein, they also deal with all other nutritional supplements like Weight Gainers, BCAAs, Pre Workouts, Creatine, and many more with the superior quality. Always selling Authentic Supplements with genuine quality.
2. Mettle
Started recently in 2020 beginning, Mettle is emerging as one of the best Protein Supplements brands. from the house of Swasthum. Using the best raw materials from the world. Mettle is making the best protein and all kinds of Nutritional Supplements additionally. Mettle deals in a variety of Nutritional Supplements like Whey Protein, Weight Gainers, Isolate, BCAAs, Creatine, and PreWorkouts. Promising the genuine and Best Indian Protein Supplements.
3. Asitis
As the name suggests, Asitis is making protein supplements with complete purity and using pure materials as it is they are. Specialized in Whey Proteins, Asitis focuses on providing the best quality products at much more affordable prices. With lower prices, they don't compromise with the quality of the product. In Addition, with Whey Protein, they also deal with other Nutritional Supplements like L-Arginine, Weight Gainer, and other supporting ingredients.
4. Big Muscles Nutrition
Get Big and Better Muscles with 100% Genuine Products. Big Muscles Nutrition is a leading Protein Supplements brand in India with guaranteed authenticity. From Proteins to Gainers and from Amino Acids to Pre Workout, these guys are dealing in all of it. In addition, made with all compliance and under all necessary guidelines. Big Muscles Nutrition is a safer way to go for a healthy and fit body. After buying from them, authenticate your product by simply adding the code provided to ensure an original and genuine product.
5. Absolute Nutrition
Absolute Nutrition started in 2013 with the objective of becoming India's leading Nutritional brand. The path followed by them led them to their goal. Being one of the Best Indian Protein Supplements sellers and being a leading seller of all kinds of Nutritional Supplements. In Addition, Absolute Nutrition is also selling post and pre-workouts. Absolute Nutrition focuses on "Making a Fitter India" with the best quality products.